The Challenge
The work to relieve congestion and improve health and safety involved completely redesigning and rebuilding the intersection of the M1 and M6 motorways, and the A14 trunk road. A number of bridges, underpasses and new exit and access slip roads needed to be added. Skanska contacted Mabey Hire to supply two sets of specialist equipment capable of taking high loads over large spans to enable some of this vital work.
The first excavation, where a bridge foundation was due to be built, had to be capable of supporting loads of over 130kN/m.
The second excavation required three-sided support for the side of the M1 while construction work was carried out below and alongside the live motorway.
Our Solution
The first excavation required a frame to support a 7.7m deep sheet-piled cofferdam with very high loads (over 130kN/m) and a plan size of 22.1m x 11.1m. The engineers at Mabey Hire designed a scheme using our Supershaft Plus and Super Shaftbrace frames, supported by our Super Bracing Struts. We supplied this equipment to a tight timeframe so that the customer could successfully shore the excavation in preparation for the bridge foundation.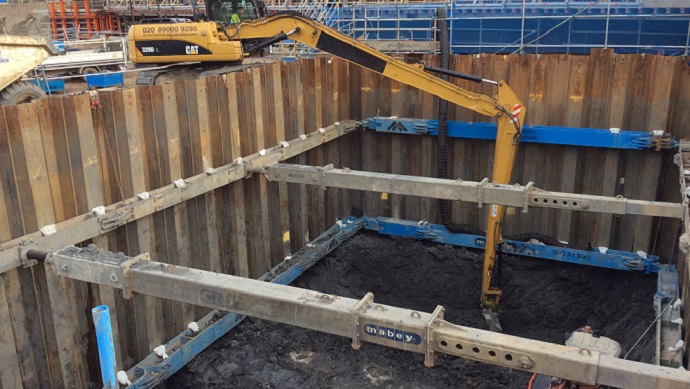 The second excavation measured 23.3m x 10m x 10m in size and had the added challenge of being next to the busy M1 motorway. Our temporary works engineers designed a solution using Super Shaftbrace frames supported by Super Bracing Struts for bracing and propping the frame.
This was the best possible system to compare with structural steel in price. All equipment was provided with a very short lead time without the need for on-site fabrication, which allowed the on-site team to install it as quickly and efficiently as possible.